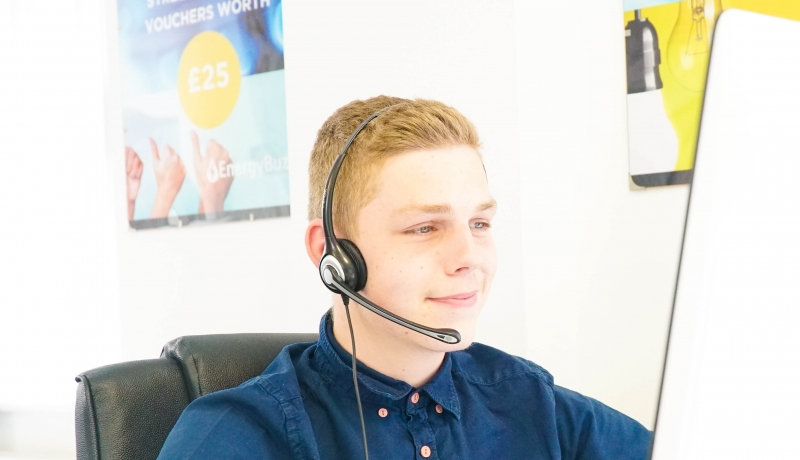 3rd August 2018
Apprentice to a career as a Sales Consultant
Laurence joined Energy Buzz as an apprentice just after his 17th birthday and has now progressed to a career opportunity, within the company.
His apprenticeship so far –  
After leaving college and deciding to get a further education, but also wanting to earn some money and gain experience of working full-time, Laurence approached The Heart of England Training.
He took on a Level 2 Customer Service Apprenticeship for 12-months, whilst working with Energy Buzz as a Lead Generator, back in September 2017.
Last month he took the step up, of a full-time position with Energy Buzz, as a Sales Consultant and he's absolutely Buzz-in!
"I'm really enjoying my time at Energy Buzz and I feel like I've settled in very well within the company. I found the apprenticeship more formal than my previous part time job, which has helped me to focus on progression within the business, whilst gaining job experience. The apprenticeship has given me a great opportunity with the company. I've almost completed my qualification now and I'm constantly learning more about the industry, which helps my confidence in building relationships with customers.
I feel as though I'm progressing well at Energy Buzz. I've only recently started my new role as a Sales Consultant and it didn't take me long to secure my first sale. This was a big relief for me and it was a great feeling to know that I'm contributing towards the team's efforts. I'm kept very motivated in my job, I'm always busy and never get bored. There's also a great opportunity to earn extra money on top of my basic wage!"
Director's comment –
"The apprenticeship scheme is an ideal opportunity for school leavers to get their foot in the door with a company and to also gain experience of working full-time. I think it's a great platform for the younger generation who maybe unsure of what they want to do, when leaving school.
In Laurence's case, he been able to learn about the role and our industry whilst getting his qualification and he's progressed well. He's now ready to start working his way up the ladder, within our growing company." Nathan – Company Director
Apart from looking forward to completing his apprenticeship next month, Laurence added –  "It's also my 18th birthday this month, I can't wait to get my ID!".
Cheers Laurence, this round is on you!